OUR FAVORITE BOOKS FOR LITTLE RAD THINGS NEWBORN TO 12-MONTHS-OLD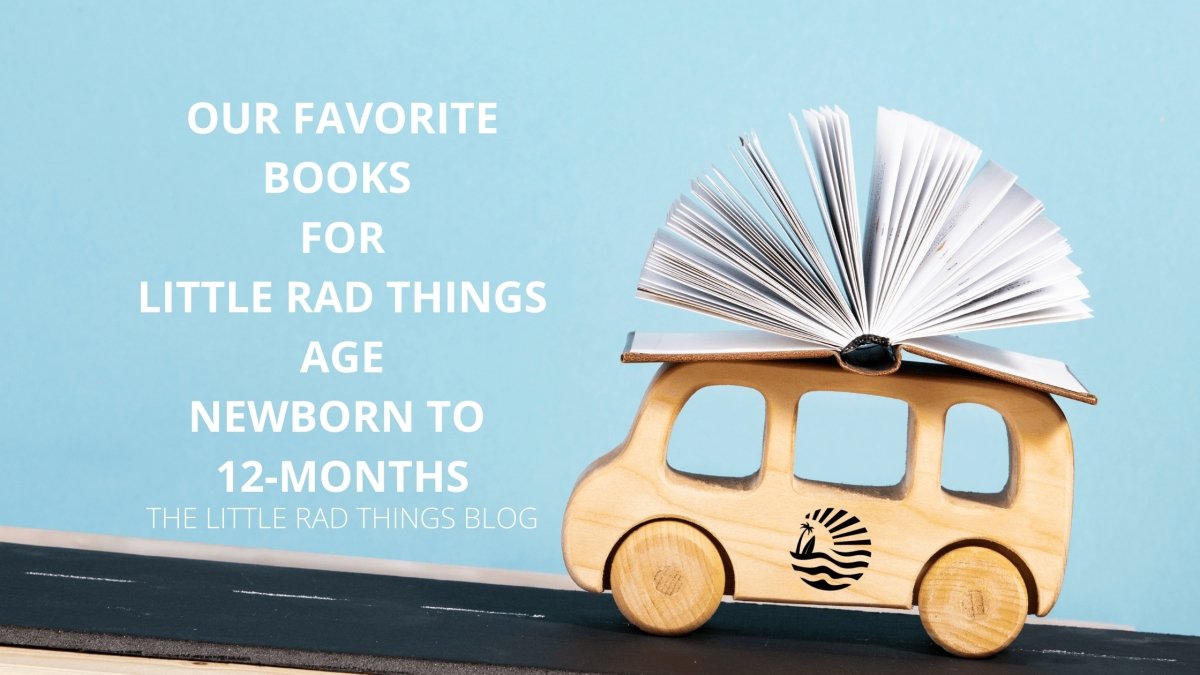 Have you started reading to your Little Rad Thing(s) yet?!
Reading is one of my favorite things to do with my LRTs, Paxton and Jaxon. It has been reported that reading books aloud to children stimulates their imagination and expands their understanding of the world.
Today I wanted to highlight some of my favorite books to read littles that are in the age range of newborn to a year old, as that is such a pivotal time in a little ones development! 
Four books I enjoyed reading to my Little Rad Things: 
This book is so fun! Each page has a texture for your little one to feel. My son Pax enjoyed this book so much when he was an infant and it was awesome to see his development change with this book. Over time he went from having no concept of what reading was, feeling each page, pointing out the mouse on each page, and then even reading the pages with me! I think some of it was from memory, because this book has probably been read 500 times (at least) in our house. 

Does anyone else find it astonishing that this book has stayed a relevant book since it was established in 1940?! Not many books do that. It honestly makes me think about Think and Grow Rich, if you are looking for an adult book that has withheld the test of time! Anyway, Pat The Bunny was a favorite for my littles. This book again has different textures and tasks for your Little Rad Thing to read through. From putting their finger through mommy's ring to touching daddy's scratchy face, it is sure to be a favorite! 

Cue the waterworks. Love you forever is one of those books your Little Rad Thing will love and you will love to hate, maybe. While I love this book, being a boy mom, it makes me cry. I'll spare you the details, but you should absolutely buy it! 

If you're child enjoys trying to find different items on a page (think Where's Waldo) they will love Goodnight Moon! This book while simplistic in context has several adorable items on each page that while entertain your Little Rad Thing while also teaching them to say goodnight! I personally think this book helped Paxton not be scared of anything at night, since they say goodnight to all the items in the room before bed! 
One thing I have strategically done with my little ones too, is read out-loud whatever I am reading (age appropriate) to them so they are still hearing a story, even if it is an adult book. 
A few of my favorite adult books to read out loud to my Little Rad Things:
This book is fantastic! The narrative is about finding ones destiny, and what is more inspiring to read to you and your little one than a novel about the world conspiring with you when you believe! 

If you're into health and fitness, this book will be your jam! If you are not into health and fitness, you will likely still enjoy the narrative behind this novel written by Crossfit coach, Ben Bergeron. Overarching message: you have to do the work every day to win. 

Michael Jordan, one of, if not arguably, the best athlete of all time. In this book written by Tim Grover, you will read about the relentless mentality and how Michael Jordan became the best. Again, I love this book because it inspires one to be relentless in nature and not give up on anything, because if you work hard enough, have enough desire, and intently take action - you can do anything. #LiveLimitlessly
What have been your favorite books to read to your Little Rad Thing?
I'd love to hear what you and your children have enjoyed, so please shoot me a note at: 
@thelittleradthings | @maddyefero | The Little Rad Things Facebook
Happy Reading! 
Mads