Liquid error (announcement-view line 97): Could not find asset snippets/div.liquid
Free shipping on all US orders over $35 🇺🇸
THE BRONCO LITTLE RAD THINGS ONESIE
⚡️100% Satisfaction or your money back ⚡️Fast + Free Same-Day Shipping ⚡️Unlimited customer support
The perfect onesie for your little one who will one day over the beach life. This design was the first creation for the Little Rad Things and truly expresses our desire for a laid-back lifestyle. 
Super-soft fabric and comfortable fit.
A great choice for daily wear, as both you and your little one, will love it.

Made of 100% soft, ringspun cotton.
Unique screenprint design made to withstand all their daily rad-doings.
more about this item
- Get your shipping confirmation in 1-2 hours.
- Enjoy free shipping on orders over $35 in the U.S.
- Unwrap or gift your new grabs in as little as 3-days.
- Never worry about having to wait for your favorite products again.
- Rad, inspired clothing that you and your little can be stoked about.
- An exclusive LRT sticker.
- A personalized note from a member of our team.
- Get your money back if you're not satisfied.
- Hassle free returns within 30-days of purchase.
- You're never stuck with something you don't like.
Insanely
Soft
As parents ourselves, we know that what you put on your babies sensative skin is a priority. That is why al of our infant onesies have been carefully selected to be the softest thing for your LRT's gentle skin.
Made for
Movement
We've carefully selected our onesies for a wide variety of movement. You and your LRT are going to love how these pieces move with them - from first wiggles to first steps.
Easy
On + Off
Made of premium materials that give a little stretchy, you and your little one will love how easy it is to take care of those pesky messes - that only occasionally happen...
More leading choices
You'll love these unbeatable options.
OUR COMMITMENT
100% satisfaction or your money back
fast delivery with same day shipping
safe and secure checkout
Frequently Asked Questions
All Little Rad Things purchases ship within 24-hours from our North Carolina warehouse, unless otherwise noted in the product description.
Always refer to our size chart when selecting the best size for your child. When in doubt, size up so your rad-things for sure fit!
The Little Rad Things Difference
Rad Quality
Bold Styles
Limitless Mobility
Ultra Soft
Swell words
Hear from parents who love doing little rad things.
Customer Reviews
05/10/2022
Ashley H.

United States
I recommend this product
Stylish and good quality!
The Little Rad Things Bronco onesie is the perfect shade of a pale olive green. Another thing I noticed that I loved about this onesie was that when you pair it with pants you can still see the whole image. Very good quality!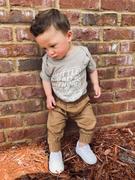 05/10/2022
Mads @ Little Rad Things
Ashley, Thank you so much for the kind review! I am thrilled that you love this onesie. It literally is one of my favorites pieces from our store. I hope that you'll shop with us again soon!